Eat Out? Take Out? Some Great Places.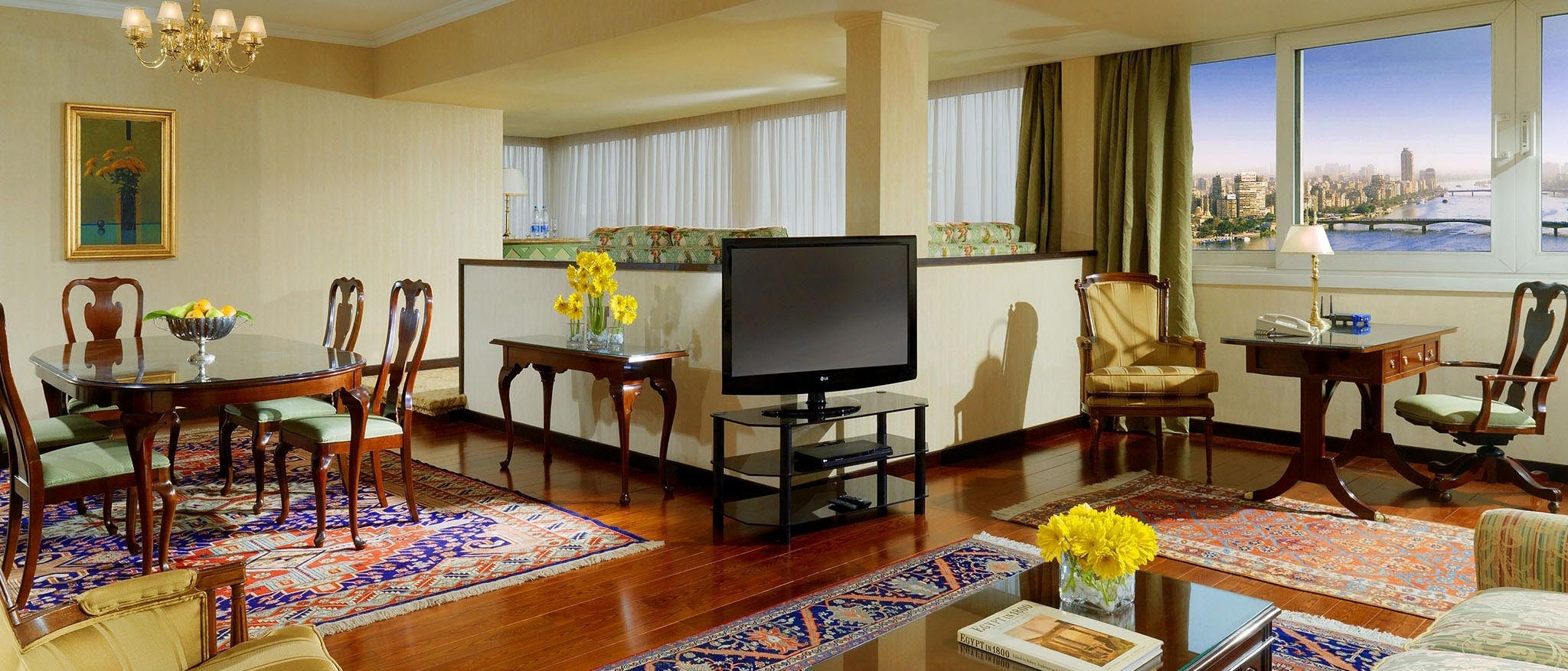 You can eat fuul and taameya sandwiches for EGP.1 each, a bowl of
koshary (all good vegan food) for about EGP5 or have an international three-course meal in a five-star hotel for EGP350 and up; the choice is yours.

Fuul (mashed beans) and taameya (fried bean patties) are traditional working-class Egyptian fare, and are common breakfast dishes. They are usually served in aish shami, the local equivalent of pita bread. Some of the dirtiest, most unhealthy-looking eateries in Cairo serve the best fuul and taameya, although you just might feel as though you're taking your life in your hands by eating in them! Koshary is usually eaten as a lunch dish, and is the original Egyptian fast food. Its main ingredients are macaroni and rice covered with salsa (tomato sauce) with a sprinkling of fried onion, hummus and lentils. If you're in a koshary restaurant and applying your own sauce, be sure to shake the bottle VERY well. The other optional extra is chili sauce (the dark red stuff) and, yes, it is as hot as it looks.

Downtown
A tub of take-away koshary costs anywhere from EGP1 to EGP2.50, depending on the establishment and the portion. Some of the best kofta and grilled chicken can be found at the quaint Alfi Bey. One of the best (and certainly one of the cleanest) fuul and taameya establishments is Felfela, which has a sit-down restaurant, a take-away service, and a koshary restaurant. Felfela serves the cleanest and cheapest Egyptian food in town but be warned - during the peak season literally bus loads of tourists turn up so it can get pretty crowded. There is, however, another branch in the Pyramids. Of particular note is Le Grillon and for old world charm, try the Odeon Palace Bar.

Old Cairo
A very famous coffee shop that has been open for 200 years is El Fishawi in Khan El-Khalili. You get all the usual ahwa drinks here with the added "advantage" that the world will come to you. This is only an advantage if you enjoy dead foxes, wallets, "cigarette shishas" and trinkets waved under your nose continuously. In addition, it's more expensive than most other ahwas.

Giza
Other popular Egyptian dishes are kofta and grilled chicken, usually found in restaurants that serve just that, with a selection of salads, usually green salad, hummus, baba ghanoush (eggplant mashed up with tahini), torshi (pickles) and bread. A good place to try these dishes is the family-friendly Andrea. There's also what Egyptians translate as "Egyptian pizzas," which should perhaps just be referred to as fiteer as they appear to bear no resemblance to pizza. Fiteer can be eaten sweet or savory, and they're made while you wait. You order your fiteer and chose what you want in/on it from the ingredients in the bowls in the work area. br>

Mohandissen
Of course, Cairo offers cuisine from all over the world, not just Egypt. For Indian food, try the excellent Kandahar, which also features live music. Prestige is an Italian restaurant and pizzeria that plays pop music over their speakers. For Mediterranean and Turkish dishes served in a rustic interior try Ataturk Restaurant and Grill. Tornado is a cafe that is popular among the young and fashionable for its hip atmosphere.

Heliopolis
Rossini is an all exclusive and rather expensive place to enjoy a meal. The Grand Cafe is set in a beautiful garden, and is a great place to spend the afternoon. Lebanese cuisine can be found at Al-Dalouna, a restaurant popular among families, while Chicken Tikka serves up local dishes in an American-themed dining room. La Casetta is an Italian restaurant that specializes in making your meal and evening as enjoyable and romantic as possible.